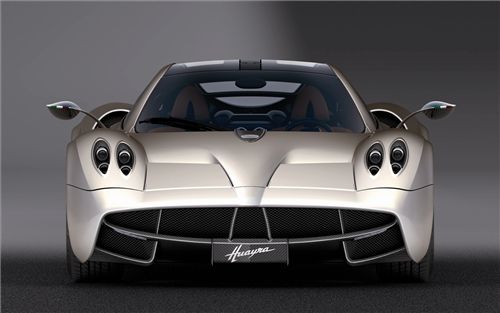 The Pagani Huayra (pronounced wai-rah) is an Italian mid-engined sports car produced by Pagani. The second car produced by Pagani, it succeeds the Pagani Zonda. It will cost £850,000 when it goes on sale in the spring. It is named after Huayra-tata, a South American wind god.
The Huayra uses a carbotanium monocoque construction. Advanced composite materials that are used on the Huayra were first used on the Zonda R. The car features gull-wing doors. The fuel tank is positioned behind the driver
Unlike many modern supercars, the Pagani Huayra does not use a dual-clutch gearbox; instead it uses a seven-speed sequential gearbox and a dual-disc clutch. The choice not to use a dual-clutch in oil bath was because it would lead to an increase in weight of over 70 kg (154 lb), negating the advantage of the ability of such transmissions to change gears faster. As a result, the entire transmission of the Pagani Huayra weighs 96 kg.
Pagani Huayra Hatchback
Red Pagani Huayra Performance
Driving Interior Pagani Huayra
Pagani Huayra on the Road
Silver Pagani Huayra Concept
Pagani Huayra Wallpaper