Toyota Supra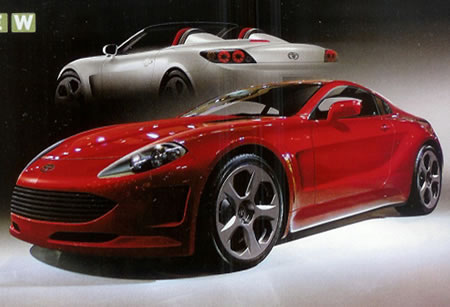 Rumors of a new Toyota Supra have been circulating for months and every piece of information were come across further validation of these rumors.
Now we know, there will be both coupe and convertible versions of this car. The coupe will be equipped with a 5.0-litter V-8 producing 450 bhp, this engine will not be available for open air model.
The last will get 3.5-litter V-6 producing 350 bhp, the same power train used in the Lexus IS350 and GS350.
If everything we're hearing is true the Supra will appear in October of 2007.
Toyota Supra hybride car concept wallpaper
Toyota Supra hybride concept car wallpaper
Blue tuning Toyota Supra, Toyota Supra tuning
Supra History
:
The origin of the Celica dates back to 1970, when the first Celica was introduced into the Japanese auto market. Toyota, known for its reliable, basic transportation, felt that its position was strong enough for it to offer its first sporty model.
The Japanese economy was strengthening, and with it, the desire to drive something more exciting than the traditional, spartan Japanese automobile. This new attitude by Toyota was reflected first in 1967, with the 2000GT, a swoopy sports car built for Toyota by Yamaha. Featured in a contemporary James Bond film, the 2000GT, with its DOHC inline-6, would later become the inspiration for the Supra (the 2000GT name was also used on later Japanese Celicas and Supras) . As a sidenote, the legendary Datsun 240Z appeared in the same time frame, and may actually have been designed on the same concept as the 2000GT.
In 1971, the first Celica STs arrive in America, powered by 1.9 liter 8R-C SOHC four cylinder. A four-speed manual is the only transmission option. For '72, the larger 18R-C engine replaces the original, but the lowered compression ratio due to new emissions requirements results in an 11-horsepower loss. A three speed automatic is now available. During the 70s, sexy styling, reminiscent of early Ford Mustangs, and an eager four-cylinder enable the Celica, along with the Corolla, to solidify Toyota's position in the American market. Fun to drive, and reliable to boot, the Celica is a success.
Top Secret V-12 Toyota Supra Twin Turbo
Great Toyota Supra wallpaper