The Nissan Silvia is the name given to the company's long-running line of sport coupes based on the Nissan S platform. Although recent models have shared this chassis with other vehicles produced by Nissan (most notably the European 200SX and North American 240SX in the S13 and S14 generations, and 180SX in the Japanese market), the name Silvia is not interchangeable with the chassis codes.
The S13 Silvia, introduced in mid-1988 for the 1989 model year, was immensely popular in Japan. The Silvia name was no longer used on export models, however; European models were now known as 200SX. In North America, the S13 was known as the 240SX. The Nissan 200SX nameplate would return on a coupe version of the B14 Nissan Sentra (1995–99). The S13 was based on the first generation Nissan Cefiro, the A31. Following industry trends, the S13 Silvia switched to relampable fixed headlights. Projector optics were offered as an option.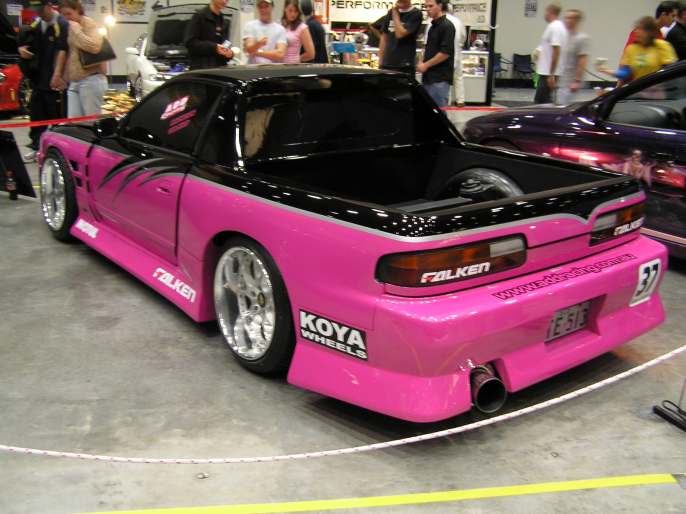 The S13 Silvia coupe was made from 1988–1994, overlapping with the S14 Silvia introduced in 1993. The Nissan Silvia used fixed headlights; whereas, the 180SX, simply a hatchback version of the Silvia, introduced at the same time used pop-up headlights. The 180SX was made until 1998. A Silvia convertible was briefly offered soon after the start of production, but it was never popular, perhaps due to high cost (3.25 million Yen in 1988), heavier curb weight, and chassis flex
.
The S13 was one of the first uses of Nissan's multi-link rear suspension, the technology of which was previewed in concept cars in previous years, such as the Nissan MID4. It also offered a four-wheel steering system for the first time, known as HICAS-II. In 1990, HICAS-II was updated and renamed SuperHICAS. The S13 also saw the introduction of a viscous-type limited slip differential for some models.
The creation of the Sileighty then followed by another version of the Silvia known as the Onevia. Based on the chassis of the S13, the front end of the Silvia would be removed and replaced with the front end of a 180SX. The Onevia was never retailed as a complete car in Japan (though it was in North America: the notchback version of the 240SX was essentially a left hand drive version of the Silvia with the 180SX/240SX nose).
White Nissan Silver s13
Red Nissan Silver s13
Nissan Silver s13 Yellow color
Nissan Silver s13 Sport Car